Campervan Rental Holidays in Australia
Holiday Motorhome Hire Australia With RVRentACampervan
RVRentaCampervan has over the years earned a reputation envied by our competitors as a company that not only delivers on its customer services promise but does so with affordable camper van prices. Book you oz camper odyssey today with us and join the band of happy customers.
Australia or OZ is a vast country that requires long overland trips to fully appreciate its abundant natural attractions and vibrant cities. Renting a campervan gives the versatility of having your own vehicle to reach off-the-beaten track destinations as well as the convenience of having accommodation wherever you are.
Australia's road network is good and there are routes to most popular destinations. Overland campervan trips have traditionally been the way to see Australia and there are plentiful camp grounds in Darwin, Alice Springs, Queensland and Perth.
Recommended campervan drives in Australia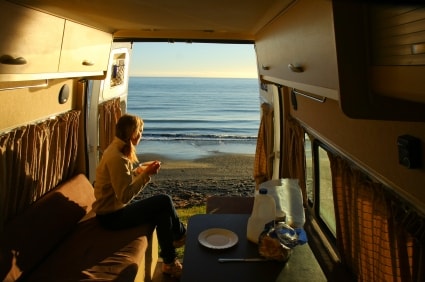 Latest Customer Review:
We booked a 4 berth motorhome from KEA for 12 days and I must admit we really loved every day. The van had everything you need and was very comfortable , a home from home. We would also like to thank the staff in Sdyney who spent over an hour showing us all the camper features. Now we are back in the UK and planning our next camper holiday.

Australia

See more comments or add your comments here
Red Centre Way:
This route connects the Northern Territory with the central locations of Watarrka National Park, Kata Tjuta and Ayers Rock, and Alice Springs. Travellers will journey through red desert and spinifex forest. Voyages Ayers Rock Campground and Alice Springs are two of the locations with motorhome parks.
Coastal Western Australia:
Heading north on Highway 1 from Perth, drivers follow the coast past Geraldton, Denham, Monkey Mia, Shark Bay, Ningaloo Reef and Broome. Geraldton and Ningaloo Reef are two of the best places for overnight motorhome stops.
Queensland:
The tropical northwest region of the country offers an attractive campervan odyssey from Cairns to the Atherton Tablelands, to Cape Tribulation, Port Douglas and back to Cairns again. Lake Eacham and Port Douglas are ideal overnight rest places.
Safe Driving a RV Hire in The Australia
Road network:
Australia has great road infrastructure, although remote locations have routes which are little more than tracks. Highway 1 goes right around the coast. There are long stretches of road without petrol stations, so it is advisable to fill up whenever the chance presents itself.
Speed limits:
Urban roads: 50kph, except where indicated
Provincial roads: 80kph
National roads and motorways: 100kph, Northern Territory 130kph
Alcohol limits:
0.5 per cent – strictly enforced with random breath-testing.
Safety:
Motorists drive on the left in Australia. Roads and driving standards are generally good. There are breakdown services. The use of a mobile phone when driving is illegal.
Compare Motorhome Hire Vehicles Before Booking
RVRentACampervan has long experience of handling RV rental in Australia, we can offer great deals in all the major towns and cities of the country. Vehicles such as Apollo Hitop, Backpacker Nomad and the Britz Bush motorhome can be picked up in Brisbane, Sydney, Perth or Adelaide.
We think you will find this resource on Top Tourist Parks helpful along with this guide.
Australian Weather Overview and Map
Australia's massive size means its climate varies depending on the region, though the weather in all regions is influenced by the ocean currents. The southwest corner has a Mediterranean climate, while the north is tropical. The centre of Australia is arid, hot and dry year round. The southern half has quite cold winters while cities in the northern monsoon belt, like Cairns, experience a hot and dry climate. Summers in the north are wet and hot while in cities in the south, such as Sydney, are dry and hot.
Rent a Campervan Blog
I love visiting Finland and exploring it lakes, beaches and mountains. There is also of course the magnificent Northern Lights that can...
Nowadays many holidaymakers are opting to go on a motorhome holiday rather than stay in a typical hotel. It is becoming a popular way t...