Book RV Rental in Canada
Motorhome Holidays in Canada
The second-largest country on the planet, and the largest country in North America, Canada is famous for its untouched landscape that is perfect to explore with an RV, making rental of such a vehicle highly recommended.
Having a fully equipped camping van at your disposal in Canada allows you to set off on any road trip of your choosing. Additionally, you can develop a greater appreciation of the natural environment found here while saving money that would otherwise be spent on hotels and public transport. Whether near cities or in the wilderness close to national parks, RV sites are plentiful around Canada.
Avail of RVRentaCampervan's knowledge and experience in booking campervan vacations , the team understand all the nuances associated with hiring campers in Canada. We are confident that when you book with us you will join the legions of happy customers many of which we have come to regard as friends.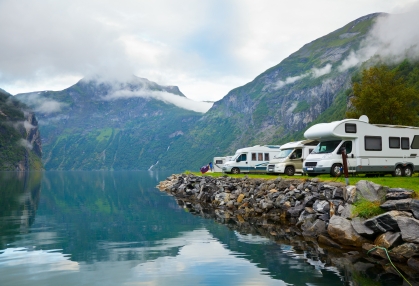 Latest Customer Review:
Hi, Andy Thank your team for making the booking process experience quick,easy and efficient – enabling all of us to spend more time planning a great holiday.

Canada

See more comments or add your comments here
Recommended camper drives in Canada
Niagara Falls:
From Toronto, head roughly 130kms out of the metropolitan area to one of the world's greatest wonders. The Falls consist of three waterfalls which combined have the highest flow rate of any other waterfall in the world, they straddle the borders of USA and Canada. Recreational vehicle accommodation is abundant in the region, with Niagara Falls KOA and Jellystone Niagara Camp Resort among the most popular places to stay.
Whistler:
Those on the west coast can head some 125kms along the Ski Highway, taking in Shannon Falls and Stawamus Chief Rock before ending up at an area famous for hosting the majority of the 2010 Winter Olympics. RV accommodation is located at Paradise Valley Campground in Squamish and Riverside Cafe and Catering in Whistler.
Canadian Rockies:
A motorhome tour that can last as long as two weeks, should you want it to. Most drivers start in Vancouver then head to Ashcroft before venturing to the likes of Clearwater and Wells Gray Provincial Park, among other spots along this popular route. All the mentioned locations have camping car sites, such as Cariboo Trailer Park and Camp McLean. Before embarking on this mountain road trip please be aware that fuel stops are infrequent and you may have to travel 100KM to the next fuel stop, if driving in winter ensure you have a winter survival kit and a cell phone for more tips on this drive please visit here.
Safe Driving Advice in Canada From RVRentaCampervan
Road network:
Canada boasts an excellent network of highways and the scenery is not to be missed. Petrol stations are plentiful.
Speed limits:
Urban roads:50-80kph
Provincial roads:70-90kph
National roads and motorways:80-110kph
Alcohol limits:
0.08 per cent with highways and roads regularly policed. Heavy fines for offenders.
Safety:
Roads in Canada are in excellent condition and drivers drive on the left. The AA responds quickly. Using a mobile phone while at the wheel is prohibited.
Compare campervan hire in Canada
RVRentaCampervan Offers the best deals on Winter RV rental in Canada, camping cars and vans are available from main cities like Toronto, Montreal, Vancouver, Calgary, Ottawa and Winnipeg. TC Motorhome, MH-22/24, and MH-19/20 are the most common models of RV holiday rental offered in Canada and are available for pick up in city centres and airports.
Canada Weather Overview & MAp
Canada's climate varies according to location, with southern and central Canada experiencing the coldest and the warmest temperatures, the north being the coldest region and the east and the west coasts experiencing the mildest temperatures. Winters can get extremely cold, especially in the interior Prairie Provinces and the Arctic North, while in the summer, the interior temperature can soar. When it is cold and snowy in Montreal, it is warm and wet in Vancouver, while Toronto tends to be the hottest and the most humid city in the summer months. Heavy snow fall greatly affects the north throughout a good portion of the year, like in Nunavut, which has a polar climate. Across the country, the best weather is between mid-May and September.
Rent a Campervan Blog
I love visiting Finland and exploring it lakes, beaches and mountains. There is also of course the magnificent Northern Lights that can...
Nowadays many holidaymakers are opting to go on a motorhome holiday rather than stay in a typical hotel. It is becoming a popular way t...