Compare RV Rental in Canada
Motorhome Rental in Canada
The second-largest country on the planet, and the largest country in North America, Canada is famous for its untouched landscape that is perfect to explore with an RV, making rental of such a vehicle highly recommended.
Having an RV rental at your disposal in Canada allows you to set off on any road trip of your choosing. Additionally, you can develop a greater appreciation of the natural environment found here while saving money that would otherwise be spent on hotels and public transport. Whether near cities or in the wilderness close to national parks, RV sites are plentiful around Canada.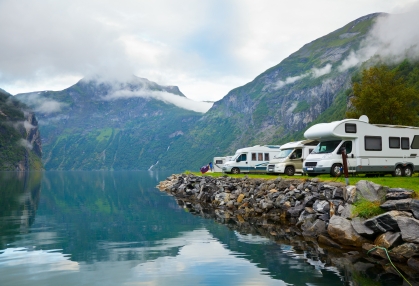 Latest Customer Review:
Our trip to Canada was awesome. We renting the budget model V24 with WestCoast Mountain campers which allowed us to complete the circle trip of the west coast taking in the scenic wilderness. Being the first time booking a campervan It was an intimidating experience, especially with all the options available, thank you for helping us find a suitable vehicle the help was needed and appreciated.

Canada
Mar 16, 2012

See more comments or add your comments here
Recommended campervan drives in Canada
Niagara Falls:
From Toronto, head roughly 130kms out of the metropolitan area to one of the world's greatest wonders. RV accommodation is abundant in the region, with Niagara Falls KOA and Jellystone Niagara Camp Resort among the most popular places to stay.
Whistler:
Those on the west coast can head some 125kms along the Ski Highway, taking in Shannon Falls and Stawamus Chief Rock before ending up at an area famous for hosting the majority of the 2010 Winter Olympics. RV accommodation is located at Paradise Valley Campground in Squamish and Riverside Cafe and Catering in Whistler.
Canadian Rockies:
A drive that can last as long as two weeks, should you want it to. Most drivers start in Vancouver then head to Ashcroft before venturing to the likes of Clearwater and Wells Gray Provincial Park, among other spots along this popular route. All the mentioned locations have RV sites, such as Cariboo Trailer Park and Camp McLean.
Driving a rental RV in Canada
Road network:
Canada boasts an excellent network of highways and the scenery is not to be missed. Petrol stations are plentiful.
Speed limits:
Urban roads:50-80kph
Provincial roads:70-90kph
National roads and motorways:80-110kph
Alcohol limits:
0.08 per cent with highways and roads regularly policed. Heavy fines for offenders.
Safety:
Roads in Canada are in excellent condition and drivers drive on the left. The AA responds quickly. Using a mobile phone while at the wheel is prohibited.
Cost of fuel:
Cheaper than in the UK.
Compare campervan hire in Canada
The best deals on RV rental in Canada are available from main cities like Toronto, Montreal, Vancouver, Calgary, Ottawa and Winnipeg. TC Motorhome, MH-22/24, and MH-19/20 are the most common models of RV rental offered in Canada and are available for pick up in city centres and airports.
Locations in Canada
Rent a Campervan Blog
Germany is filled with culture, history and divers
The USA is one of the most popular destinations in